Access all areas
We've taken care of everything
Wheelchair


Accessible Viewing

Everyone's welcome at the circuit! Wheelchair users will find help and accessible platforms and bays to make the most of their visit.
Image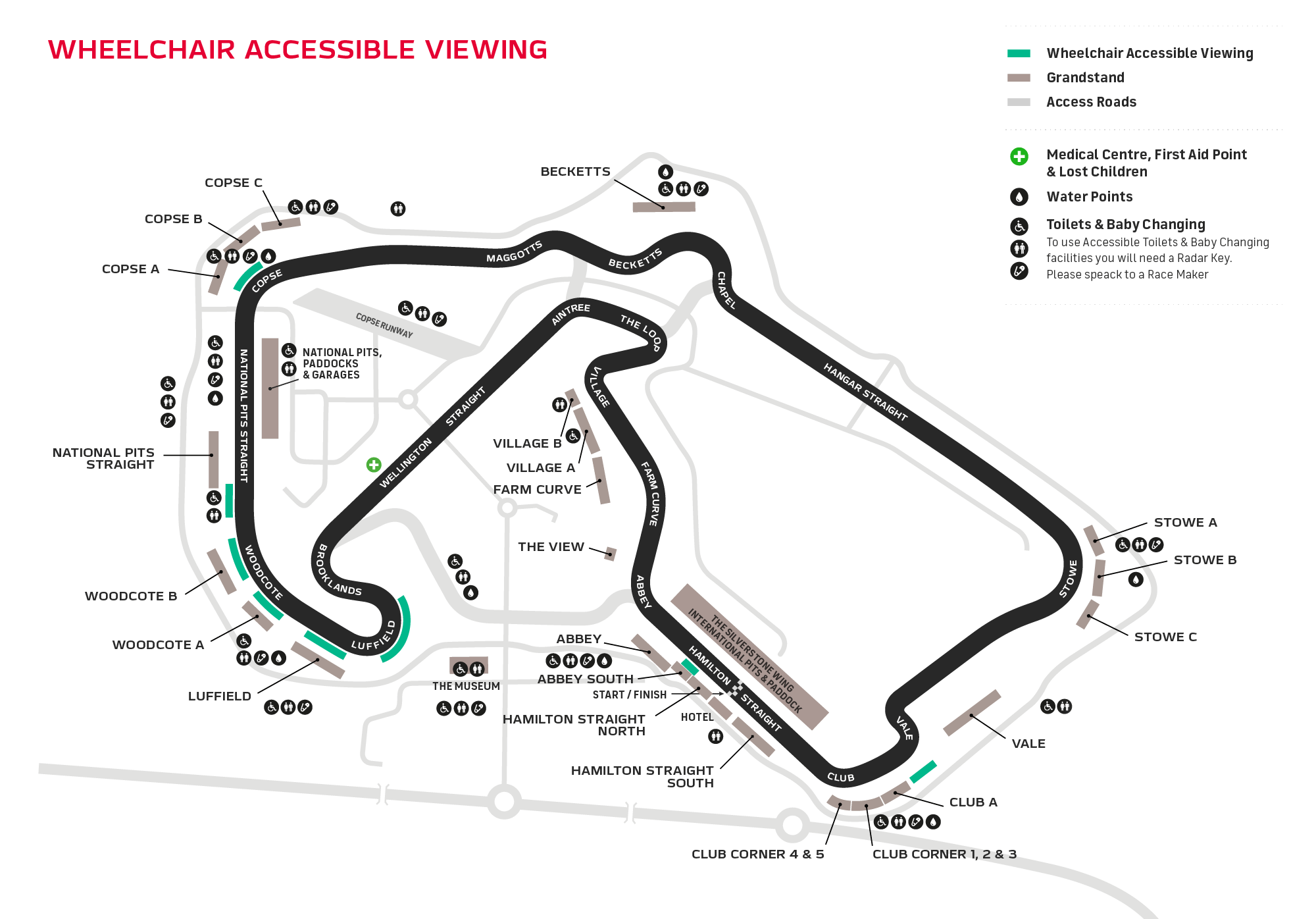 All wheelchair accessible viewing areas around the circuit are clearly signposted and named.
For the Formula One British Grand Prix and MotoGP purpose-built wheelchair accessible platforms must be booked in advance as wheelchair accessible bays are allocated for both of these events and subject to availability.
For The Classic, not all grandstands will be open. Check the FAQs in advance for details.
VIEWING PLATFORMS
With an allocated bay for the wheelchair and allocated carer seats:
Abbey provides a great view of the start/finish line, pit lane and garages. Witness the combined roar from the cars as they speed towards Abbey Corner and continue past at full throttle.
Club has some amazing views on offer so that you will see the cars come from Stowe Corner, speed down Vale into Club Corner and disappear down towards International Pits Straight. 
National Pits Straight spectators will see the drivers appear round the fast right hand turn at Woodcote, speed down the National Straight and brake hard to enter Copse Corner. A great opportunity for overtaking means this could be one of the best places to see some of the action.
GRANDSTANDS
Wheelchair accessible viewing with space for up to two personal assistants:
Woodcote B gives spectators great views of the lower Luffield complex, the acceleration zone of Woodcote and the high speed National Straight.
Please note only fans with a disability and in particular wheelchair users with one Personal Assistant (PA),if applicable, can use these allocated areas. In some cases the accompanying person or if there is more than one guest within the party can be provided with a seat, so please always check when booking. 
TERRACES 
Wheelchair accessible terraces with an allocated wheelchair bay and space for two carers with folding deck chairs:
LUFFIELD COMPLEX TERRACE  
After the cars or bikes enter the Luffield Complex, the drivers accelerate out of Luffield and through Woodcote. The family bays at Luffield can be reserved on a first-come, first-serve basis for the larger GP events. 
LUFFIELD TERRACE 
Similar to Luffield Complex Terrace, you can see the drivers or riders enter the complex through Woodcote and up the National Pit Straight.
COPSE TERRACE 
A fast entry requires full commitment from those on the track and plenty of noise for the spectators. Copse provides a great view of one of the fastest corners in Formula 1. 
ACCESSIBLE GENERAL ADMISSION TERRACES
These are concrete areas in front of the General Admission terraces. Only fans with a disability and in particular wheelchair users with one Personal Assistant (PA), if applicable, can use these terraces. Each terrace area has allocated bays for the wheelchair and seats for two PAs or carers who'll need to bring their own folding chairs. Stewards will assist you when you arrive and in the case of an emergency exit.   


SHORT TERM INJURIES
If you're suffering from a temporary disability that may affect access to the circuit or seating areas, please contact us prior to the event. We'll see if we can arrange alternative seating for you. This is subject to availability and cannot be guaranteed.