Getting Here
Getting here is easy — reach us by road, rail, bus, bike, plane or even helicopter.
Image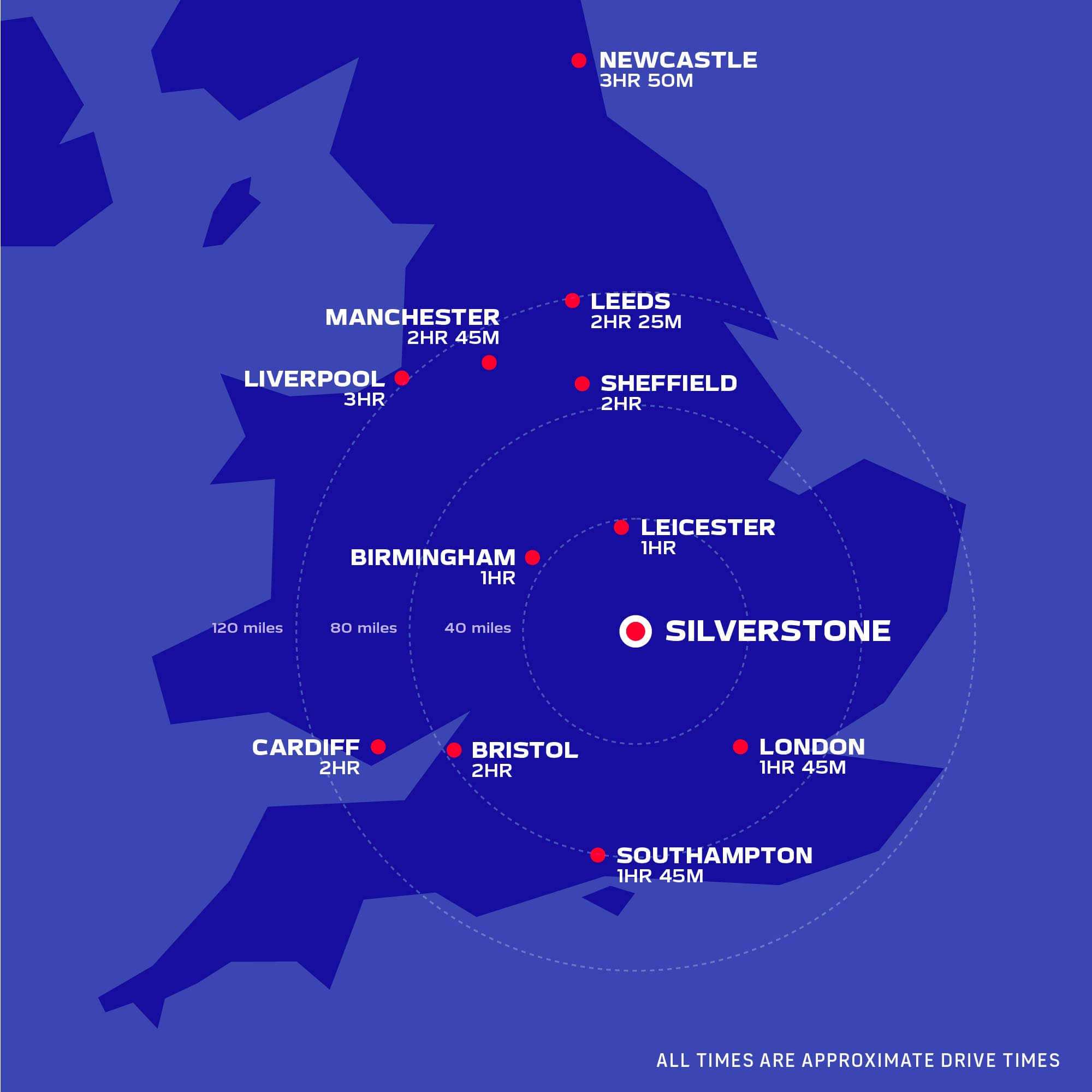 LOCATION, LOCATION, LOCATION
We're set in the heart of England.

Silverstone Circuit
Towcester
Northamptonshire
NN12 8TN
Easy access if you prefer to ride...or drive.
FROM THE NORTH 
60 minutes south of Birmingham with road access exceptionally easy along the A43 dual carriageway from the M1 motorway.

FROM THE SOUTH
90 minutes north of central London from the M40 motorway and A43 dual carriageway.

BY TAXI
Taxis are readily available at all train stations. The drop off point at the circuit is now located in car park 25 behind the Silverstone UTC via Silverstone Village using Winterhills lane.
Parking at Silverstone is easy. When you're coming to the British Grand Prix MotoGP™, please book your parking when you order your event tickets online. Book early to avoid disappointment, as circuit parking is limited. 
BLUE BADGE HOLDERS
There're a number of disabled parking areas available. For more information read our Accessibility section.
COMING BY MOTORBIKE?
Parking is free and no parking pass is needed. Please select this option in the booking process to help us manage parking at the event.
CIRCUIT PARKING PASS
Park at Silverstone on Friday, Saturday and Sunday with the pass.
ADVANCED PARKING PRICES
Friday £12
Saturday £25
Sunday £35
3 Day Weekend £45
ARRIVING BY CAR FROM M1/TOWCESTER OR M40/BRACKLEY?
Please indicate this in the booking process. The direction you select is non-binding and for operational purposes only. You'll be able to arrive from a different direction on the day of the event.
WHAT YOU NEED TO KNOW
One car park pass is allocated per four tickets booked.
Don't use a sat nav when approaching Silverstone. Instead, follow the signposts that are situated on local roads and on the M1 and M40. You'll find us quicker this way.
Car parks open up to half an hour before gate opening times and are closed overnight. 
Camping is not permitted in any of the car parks.
ALREADY HAVE A MOTOGP TICKET? 
Purchase Circuit Park and extra's here 
Beat the traffic and make the most of our Park & Ride service, available from locations near to Silverstone.
M40 (Turweston Airfield)
M1 (Towcester Racecourse, Northampton Junction 15A and Towcester)
Park & Ride tickets must be purchased in advance. Simply add at the time of booking your MotoGP™ ticket.
PRICES PER CAR
Friday £6
Saturday £10
Sunday £15
3 Day Weekend £25
TOP TIPS!
Park & Ride is not suitable for motorbikes, though parking is available for motorbikes at the circuit for free.

All running times are subject to change.
ALREADY HAVE A MOTOGP TICKET? 
Purchase Park & Ride and extra's here 
Silverstone is well supported by many rail stations close by.
The closest station, Wolverton, is approximately 10 miles (16km) away from the circuit. It offers direct train services to London Euston, Birmingham New Street and Northampton Rail Stations.
In the area and all under 13 miles (20km) away are Banbury, Milton Keynes and Northampton rail stations.
TOP TIP!
Always check for updates on engineering works over the bank holiday weekend.
No need to book in advance.

Stagecoach operates local bus services to and from the circuit. Just turn up on the day and pay the driver – be prepared for busy services for large events. The drop off point is located close to the circuit entrance.

Please consult the local bus service for their current timetables.
WEEKEND SERVICES
Milton Keynes Central train station (routes 83, MK1 and X91) Northampton train station,
Northampton bus station (routes N1, 87 and 88)
Sixfields football ground, to Silverstone Circuit (route 87) 
 
SUNDAY ONLY SERVICES
N1 – departs every 20 mins from 6am from North Gate Bus Station Bay 14, Northampton Rail Station
MK1 – departs every 30 mins from Milton Keynes Rail Station Z6
MEGABUS
Book convenient travel with Megabus running services direct to the circuit and from locations all over the UK.  
Enjoy easy access from several international airports, with excellent transport links across the UK.
55 miles (88km) from Birmingham Airport
42 miles (68km) from London Luton Airport
67 miles (108km) from Heathrow Airport
89 miles (143km) from Stansted Airport