MotoGP: What to watch out for in 2021
16 March 2021
The scene is set for high tension with the hot topics of Marquez's return, Rossi starting with Petronas SRT and plenty of riders with their eyes on the Championship. BT Sport presenter and former British and World Superbike Champion, Neil Hodgson, takes us through it. 
 
01. MARC MARQUEZ - THE RETURN OF THE KING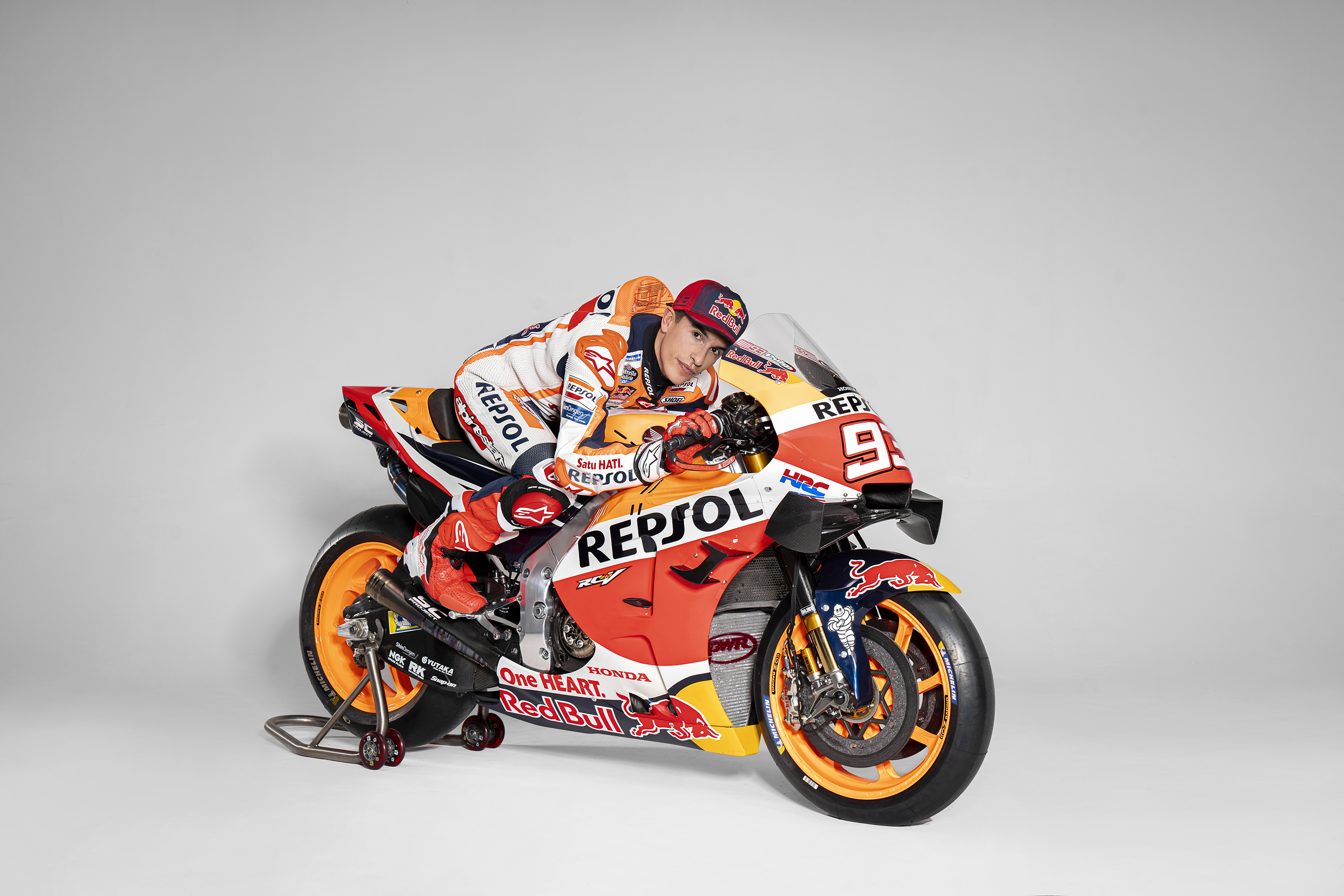 As we all know now it was announced on the Tuesday before the Qatar race that Marc Marquez won't take part in the opening two races, but the big question remains. When he does come back will he be at the same level as when he left. We're talking  about an eight time world champion. Out of 128 starts in MotoGP, he's finished on the podium 95 times!
The last time he finished a race in MotoGP was in Valencia in 2019 and in that season he won or finished second in every race bar one. That was in America where we crashed out of a four second lead. So to say that Marc Marquez is The Man, is an understatement.
 
I'm a massive fan. What he does on a MotoGP bike, nobody else can do… so far. 
 Maybe some of the young kids coming through will be able to adapt his riding style. Only time will tell.
 
Obviously he's listening  to the specialist, but if his arm is up to it, he'll turn up at Round 3  and he'll take whatever points he can get because he will have looked at last season and seen that no one was dominant. If he can just pick up some points in his return races by the time he gets to I'd say Mugello  he'll be in position where we can fight for wins.
 
Will he be able to win races again? Absolutely. Can he win the world championship this year? The fact he's missing the first two rounds I'd say not.
02. WILL IT BE ROSSI'S LAST YEAR?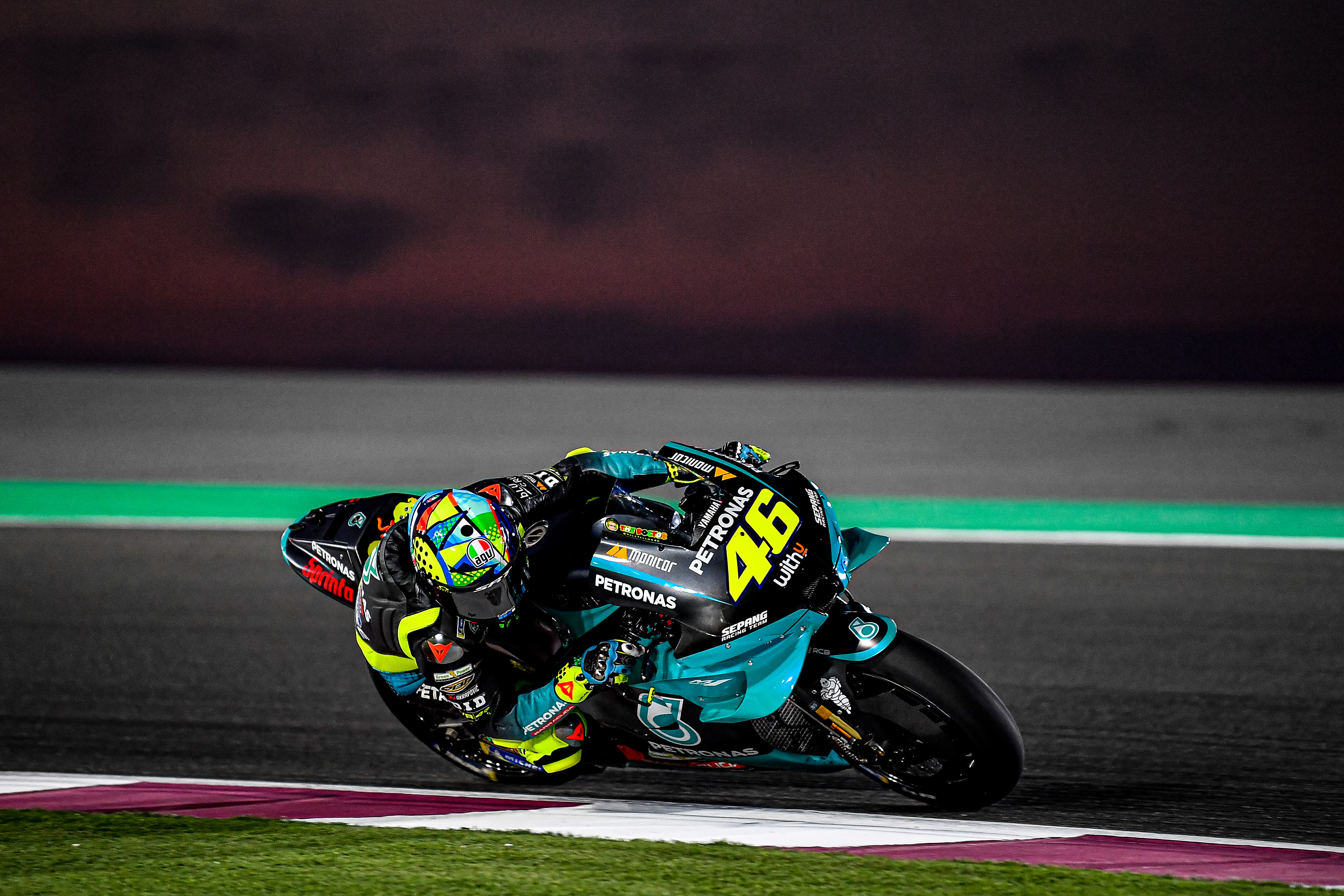 The million dollar question. If you look back at where are you finish last year, it was such a disappointing year. Finishing 15thin the Championship and a run of DNFs, he's never a season like that. 
 
When you look at his age, I mean he is eleven years older than the next oldest person in the paddock! Which is bizarre.
 
What's important is how has testing gone. Well to be honest it's not been good. He's been slow to get up to speed and in the end he ended up 12th fastest on the final day. The top three in that last test were on Yamaha's so he's on the right motorcycle for that track, so a little bit disappointing. He was however only half a second off the fastest time, but this is the new MotoGP and it's much closer than it's ever been before.
 
It's hard to believe his last race win was in 2017. His last world championship win was in 2009. These are the facts. You can't argue with them.

The big question and the number one thing is… motivation. It's all down to him. He will make the choice. My personal feeling is it'll come down to results. Valentino Rossi doesn't want to be battling for eighth, tenth, twelth. Fifth even.  When you've had the success that he's had in his career, he wants to be on the podium.
 
Last year he got on the podium only once, so my gut feeling is this will be his last year and I'm happy to see that. I don't want see my hero, my idol, battling for tenth every weekend. I just don't. I've said this to many people, there is a reason you don't see 40 year olds racing at the highest level, Something changes inside you and you don't want to push yourself to the absolute limit and Rossi is not prepared to do that anymore and I think we all respect that fact. But, I think this will be his last year.
 
I for one am excited to see him throughout the season and I encourage everyone to get themselves to Silverstone, get your Rossi T-shirts on. No matter what year you've got a t-shirt or a hat from, and see the man live for the very last time.
03. CAN SUZUKI PROVE IT WASN'T A FLUKE?

 
I mean, they finish first and third in the championship. That was Suzuki's first premier class win since all the way back 20 years ago with Kenny Roberts Junior back in the 500cc days. So you've got to say Suzuki was the surprise of the 2020 season.
 
Although having said that if you look at the results they had a fantastic season with both riders were extremely consistent. Mir only won one race. Rins only won one race. When you looked at the likes of Quartararo winning three. It shows that the Suzuki package, their motorcycle worked at most of the tracks. That was the issue with the other manufacturers. Yamaha, Ducati, definitely was a bike that was good one weekend and not the other so I think we all know the Suzuki probably the best bike all around in the championship.
 
Their only issue and something they need to improve is their qualifying. Many times Mir and Rins found themselves back on the fourth and fifth row in the races. So that is something they need to work on if they want to fight for the championship again this year.
 
Do I think they will be right up there again? Well, I'm going to say yes - 100%. One thing worth mentioning is that team manager of Suzuki, Davide Brivio, who's been there since they came back into MotoGP seven years ago has left. He's now moved to Formula One. He was a man that was steering the ship and was very well respected in the paddock. Without him will that affect the team? I'm probably going to say not because I believe Davide has built the foundations of the team are strong enough.
 
A final thing on the riders. Mir is the world champion and I'm sure the best is still to come as he's only done 3 seasons in MotoGP. Rins, who started last year with a serious shoulder injury and still managed to finished third in the championship, so he'll definitely fancy his chances. 
 
Will Suzuki be up there again? 100% yes. Can they win the championship again? I'm saying it's a strong possibility. So watch the space.
04. THE NEW ERA OF DUCATI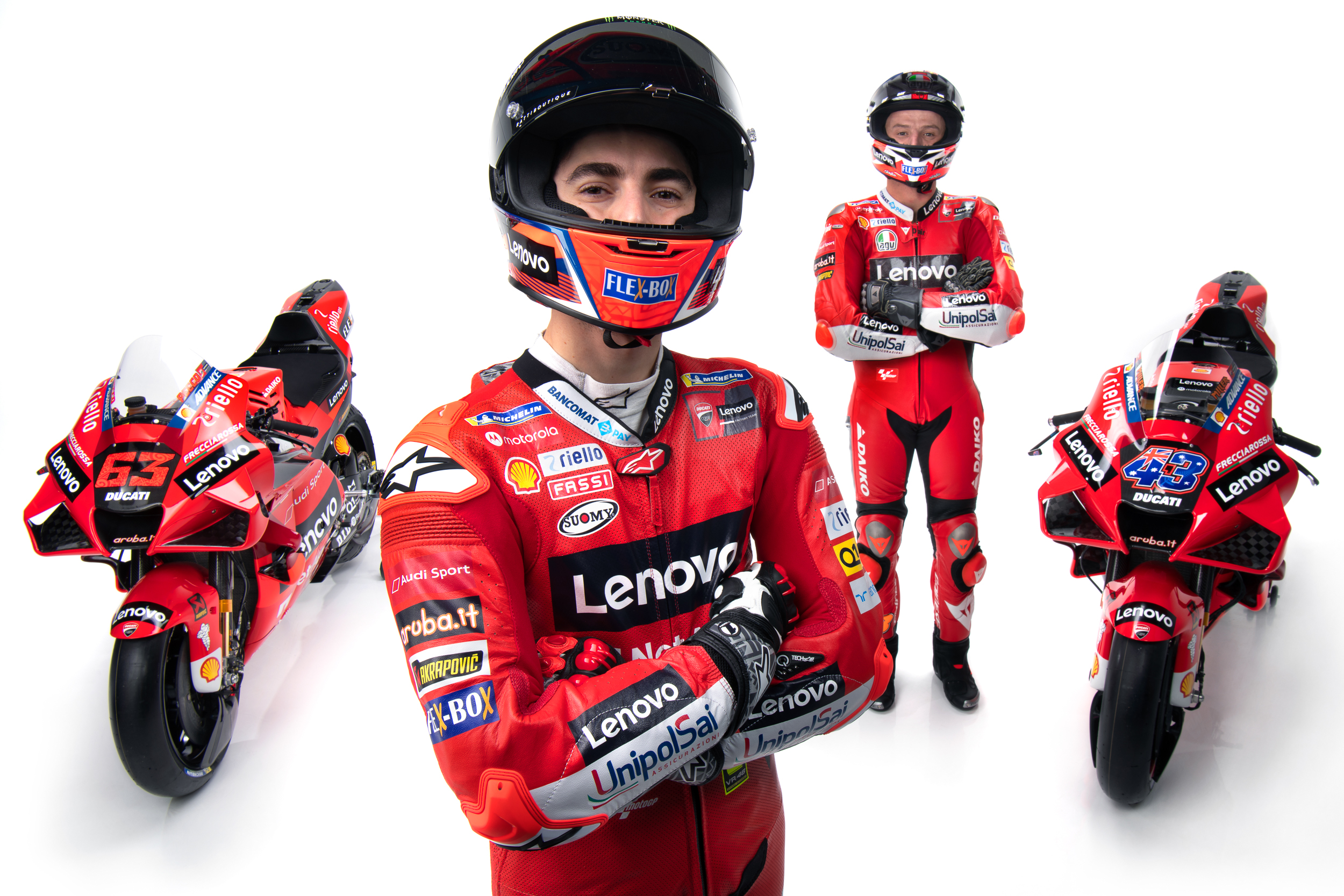 Life after Dovi – Andrea Dovizioso. Ducati have invest their money on the young guns, that's the way I see it. You've got Miller, Bagnaia, Bastianini, Jorge Martin, and Luca Marini so a bunch of young really talented kids.
 
They've tried the other way, to basically buy the ex-champions. They spent a lot of money over the years. They've probably spent around £30 million on Rossi and the same on Lorenzo for very little success
 
Can you believe they have not won a championship since 2007? Casey Stoner 14 years ago, and they've invested all that money since then their only reward has been a handful of second places in the championship. 
 
You look at the bike, it resembles a spaceship more and more every time I see it. That said, in the pre-season test in Qatar Miller was very impressive and looks like he has the pace to win round 1. That said Qatar can be a difficult yard stick for the Ducati as it's had a lot of success over the years at that track.
Quite interesting to see what they've done with the aerodynamics for this season. They appear to be trying to create downforce on lean angle. They're playing around with scoops on the lower part of the fairing on the outside of the fairing. According to Jack Miller it appears to be working. 
 
So the big question is can Ducati win the championship? Well when I look at the riders they've got, there's only one rider that is really jumping out at me with a chance of taking the title, and that is Jack Miller.
 
Don't get me wrong there could be a surprise. Someone like 'Pecco' might click with it. They've also got one veteran on the Pramac Ducati, Johann Zarco, who will feel like he's got a point to prove this year after a disappointing 2019/20. So I'd say the two riders with the greatest chance of bringing Ducati some success will be Miller and Zarco.
 
I think the secret to Ducati's chances of winning the championship are going to come down to Jack Miller trying to get a win early on in the championship just to settle him and give him the confidence to prove to himself that he can take it all the way in win the title.
05. THE GREAT UNKNOWN - WHO IS GOING TO WIN THIS CHAMPIONSHIP?I can't ever remember a season like this before and I genuinely mean that. I've been following the Grand Prix racing since I started and that was back in the mid-80s. I have never known a season where you don't know who's going to win. I genuinely mean this… I don't know. My advice to everyone is don't bet, don't gamble, don't go to the bookies because it's going be the luck of the draw.
 
I'm going to list the riders that I genuinely think have the potential to win the championship this year. 
 
The obvious one I'm going to start with is Marc Marquez. He's missing the first 2 rounds so it's going to be difficult. The one thing with Marc when he does return if the doctors give him the all clear he could potentially win a lot of races. If this happens it will put him in with a chance of winning the title. Just referring to some notes I made earlier and I've just put - Marc Marquez, an animal, a freak of nature. We're talking about the guy who's an eight time world champion he just turned 28. I could talk to him for hours. He's just super talented.
 
Next on the list is Mir. Current champion, but won the championship in only his third season in MotoGP so the best is yet to come. Plus having won that title he has the confidence of having achieved that and it'll just make him a stronger rider.
 
Third I'm going to say Alex Rins. He came third last year, but missed the first race because of a shoulder injury which plagued him throughout the first half of the season. Rins hated the fact Mir took all the glory off him at Suzuki he'll clearly want to turn the tables in 2021. Also let's not forget the Suzuki is a fantastic all-round package.
 
Another rider Franco Morbidelli. Finished second in the championship last year on the oldest of old Yamaha's. Nobody expected it. What impressed me the most about Frankie is how he just chipped away at it throughout the season and when the other riders seem to struggle on the Yamaha's he got the most out of his. That said I know he was on a slightly different chassis so that worked for him. His bike is going to be a step up this year and I think he's got a chance winning the title.
 
Jack Miller – it's the first time he's ever been given a full factory support at Ducati. They are going to throw everything at him and again, like I mentioned before, what he needs is an early win. Let's not forget he's hasn't won a race since 2016! If he can, then it'll build his confidence and I genuinely think he's got a chance winning the title.
 
Next up, Maverick Viñales. He's been at Yamaha now for a lot of years. He's the main man in the factory team now Rossi's moved out. Now that Valentino is out the garage and its Mavericks chance now to stamp his authority and get all the attention, and all the best support from Yamaha. He's so fast. I've called him the pre-season world champion. He's always gone fast in testing throughout the years but sometimes in a pressure situation he's been a little bit fragile. He's been terrible at starts. I know he's been working on that in his pre-season testing so I expect to see Maverick better than previous years - he could win the title.
 
Last but not least, Fabio Quartararo. The super talented young French rider who was the sensation of 2019. He had three wins last year but he was hot or cold. He had lots of finishes outside the top ten. It's going to be really interesting to see where Fabio's at. His talent, you can't question and now moving into the factory team. He appears to be similar to Maverick where he can be a little bit fragile at times. That said, in his defence, the Yamaha also seemed a little bit inconsistent last season so that didn't help him.
 
All those seven riders I've mentioned, if they get a little bit of luck, if they can put a run together, potentially any one of them could become champion in 2021
 
And that's why I think this year is going to be the best MotoGP season we've ever seen.
 
I hope you enjoy the season and I'll see you at Silverstone for round 12.
 
Hodgy